My Retro Sites
---
---
I have created retro sites as part of my portfolio, to show what sites looked like in the 1990s and early 2000s. The reasoning behind this is that although https://archive.org has some of my early 'designs' – they are missing some images etc. The first is my 90's site, only using notepad as the text editor. There is ZERO CSS as that wasn't a thing, so everything is inline. Please bear in mind the 90s has no way to go back – you have to use the back button on your browser!
Please click on the image below to view it!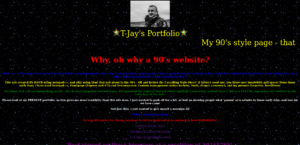 The second one is based on the early 2000s, this was built using Windows 98, and Dreamweaver MX, again, no CSS, it was available at the time, but I didn't use it for two reasons, a) it was too new, and b) that's an EXTRA page to load up on dial-up!
Please click on the image below to view it!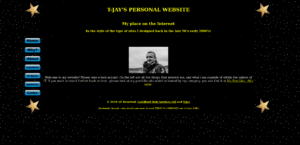 EDIT: on my server migration I lost these when I foreclosed Guildford Web services Ltd but found them while looking for something else! (thank goodness for backups!) I removed all instances of the company VIA text editor! YUK!